T

H

E 

W

O

O

D

B

R

I

D

G

E




U

P

 

H

O

U

S

E



Occupied
4722 Avery
Detroit
 A Luxury Historic Redevelopment
~ 1- 1180 sq ft Lower level Two Bedroom, One and a half Bath: $1500 ~ 
~ 1- 1130 sq ft Upper level Two Bedroom, One Bath  with office den: $1500 ~
~1- 700 sq ft One Bedroom, One Bath Penthouse Apartment: $1300~
Amenities include:
High energy efficient units: fully insulated building, 96% efficient heating units, Updated windows. Gated secured parking. Central monitored alarms with Wayne State University Police Response. Lawn Maintenance and Snow Removal. Water Included in Rent, tenant pays own gas and electric usage.
.
THE STORY OF OUR PROJECT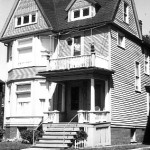 The Historic home, originally built in 1881, is one of the first homes built in Historic Woodbridge.  It was originally constructed as a single family home that throughout the years eventually became a two family flat.  As all the projects we acquire, the home had sat vacant for nearly six years before it began our transformation.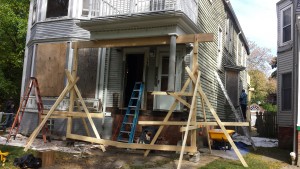 The old front porch was full of wood rot which gave us the ability to completely remove it and bring it up to code. This allowed us to transform the front facade and reinvent the home to our artistic interpretation of what Pixar's UP house  would look like as a multifamily home.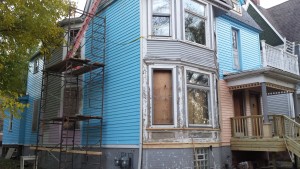 Slowly our transformation began to take shape.  We completely restored the bulk of the first story original windows and replaced all of the second story windows of the home.  This decision was in part to retain some historic character but modernize the building to improve energy efficiency by replacing the badly damaged windows on the second story.
.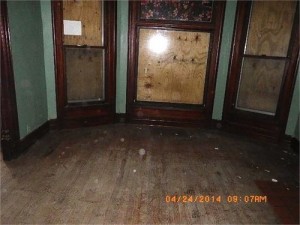 The interior condition of the building was in pretty sorry shape.  The house clearly had been neglected for quite some time.  Many years of DIY had taken the toll on all the beautiful detail in the home.  All the beautiful wood trim had been jelled dark stain or completely caked in old thick lead based paint.  All its beautiful detail had been hidden and all wood floors were badly worn.
.
.
.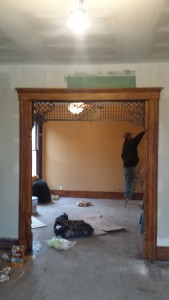 A good portion of our time was simply spent on stripping the old woodwork to make the home accents shine.  In the end all of the wood surfaces were worked.  We also reworked a lot of the old cracked plaster to smooth our walls.  In general the entire home received a complete face lift.
.
.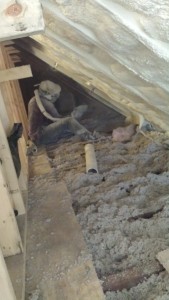 Our redevelopment shines most in the guts of the home.  We are firm believers in modernizing these old structures to drastically improve energy efficiency.  When comparing historic rental properties its always important to realize that these old homes had no insulation and often times the owners haven't updated furnaces in decades making the energy efficiency in the building abysmal.  You will easily spend twice as much on utilities elsewhere.  Our units have updated 96% efficient furnaces and cooling systems.  We also spray foam insulate our attic areas; much like your high coolers can keep ice for a week, we use building grade foam to radically improve energy efficiency.  We also open up cavities in the walls and spray cellulose into our wall cavities.  When all these factors are combined it means this building is more energy efficient than modern day construction.  This translates to lower utility bills for our tenants!
.
.
.
We created the UP inspired home to pay homage to old and new Detroit and their "Spirit of Adventure".  We felt the story closely paralleled the enterprising spirit that has been present in Detroit for so long and though of no better way than to showcase it with our Architectural Art.

So come join us and see what New Detroit living in Old Detroit has to offer.  Live in Historic Woodbridge, an eclectic historic close knit community only steps from Midtown,Wayne State University and all the walkable amenities the area offers!
.
CHECK OUT SOME OF THE PRESS WE RECEIVED!